How To Get Here / Explore Dublin City
Airlink Bus 747: Connecting Dublin Airport to City Centre
Stop: Talbot Street
Book Now 15% Discount on Airlink and All City and Day Tours-
Use Promo Code osheas
Visit www.dodublin.ie for DoDublin tours. Includes Airport Bus, Hop on Hop off tour, Ghostbus Tours and Day Tours"

History of O'Shea's Of Talbot St
A visit to Dublin is not complete without taking a trip down to O'Shea's is known locally as 'The Home of Irish Music'. A Dublin landmark long familiar to visitors from near and far, whether they're the traditional GAA supporter "up for the match"  or the back-packer on the last leg of their European odyssey, O'Shea's of Talbot Street famous for its traditional Irish Musicians who play Seven Nights a week and steeped in some iconic history from the foundation of the state.
From In the 1880's James Moran of Killballyowen, near Aughrim, Co. Wicklow took over the fine old Georgian building as a hotel, surely benefiting from it's close proximity to one of the city's main train stations. He was a Justice of the Peace and was also heavily involved in the recruitment efforts after the outbreak of World War I, especially into the "Commercial battalions" of the Royal Dublin Fusiliers.
Despite his recruitment efforts James would have some reason to feel aggrieved of the British Army as during the 1916 Rising British Army troops took over Moran's  (O'Shea's of Talbot Street). One of the unintended consequences of the 1916 Rising was the need for Moran's  (O'Shea's of Talbot Street) to get a bar licence.
Michael Collins was known to regularly use a meeting room on the first floor.  Later during the early days of the Civil War the hotel was seized by anti-Treaty troops who had barricaded themselves in. Ultimately the hotel was shelled by Pro-Treaty forces and the hotel where Michael Collins plotted only a year or two earlier was destroyed by men under his command.
World famous  Irish Trad, Rock and Punk bands have graced the doors of O'Shea's. Including. James Begley ,Joe Burke, Sharon Shannon, Connie Ryan, U2, Phil Lynott and Thin Lizzy, Bob Geldof and the Boomtown Rats had a residency here. Other great bands including Stiff Little Fingers, The Undertones and the Radiators from Space all honed their craft during the 70's & 80's in this famous go-to music venue. In fact  Paul Hewson aka Bono got his name from a nearby shop called Bonovox, a hearing aid store which is still there today.
During the 1980's Ned O'Shea, a famous accordion player from Annascaul Co. Kerry bought the venue. Ned who has played every where from local Nursing homes to the White House In Washington DC and even played at our current Presidents Michael D. Higgins wedding. Proud of his strong Irish roots he helped in no small way to revive traditional Music and Set Dancing Ireland's oldest form of dance in Dublin. If you where any body in the traditional world Ned's set list reads like a who's who of great musicians who he had the pleasure of playing with. Set Dancing still takes place every Thursday and is open for all to take part  in and learn a step or three! Who knows? you may become the next Michael Flatley
O'Shea's Restaurant and Bar, 19 Talbot Street, Dublin 1, Ireland.
t: +353 1 836 5670 | e: [email protected] | w:  https://www.osheasoftalbotstreet.com

WELCOME TO THE OSHEA GROUP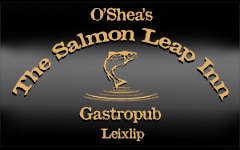 The Salmon Leap
visit The Salmon Leap, Leixlip Rd, Co. Dublin.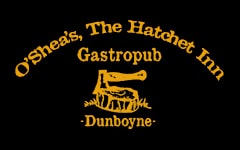 The Hatchet
visit our sister pub, The Hatchet, in Co. Meath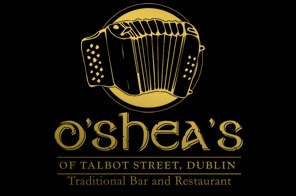 Contact us
Go to our contact details and directions to find us